Home / Blogs / Primetime Solitaire: Klondike On TV
Welcome back! In a previous article, we covered several cameos made by Solitaire in a few blockbuster films. Any Solitaire fan will tell you that seeing their favorite game pop up in a movie cameo is like seeing their best friend make it to the Big Leagues, and this time we have something similar for you.
For today's article, we will be checking out a handful of times Solitaire has made an appearance in TV shows, with everything from prestige dramas to beloved, long-running animated classics being represented. So, without further ado, let's see where our favorite card game has shown up in Primetime Solitaire: Klondike on TV.
Better Call Saul
If you're unfamiliar with Better Call Saul, you probably missed the emotional series finale earlier this year, and that's a shame. The show was created by Vince Gilligan and served as a spin-off, prequel, and also a sequel to his acclaimed series Breaking Bad. The show illustrates the transformation of Bob Odenkirk's character from the former series, Jimmy McGill, from an earnest lawyer and former con artist into Saul Goodman, Walter White's favorite egocentric defense attorney and guide to the criminal underworld.
But, perhaps a more appropriate title for the show would have been "Saulitaire", since the creators appear to love the game so much that it makes several appearances. Here are a few of those cameos.
Season 3 Episode 2 "Witness"
This episode starts off on the right foot. In the opening scene, Jimmy/Saul's older brother Chuck McGill hires a private investigator, a character by the name of David Brightbill. As the two discuss the job of finding physical evidence that Jimmy doctored important legal documents relating to the Mesa Verde bank, David is calmly playing Solitaire with a deck of cards.
David notes that these particular cards have holes in them to prevent cheating, which serves as a little bit of character development for David to show that he's honest and on his game.
Season 4 Episode 3 "Something Beautiful"
This comedic cameo occurs when Jimmy hires a professional burglar named Ira to steal a Hummel figure from the office of Mr. Neff. In Jimmy's words, "It's the easiest $4,000 dollars you'll ever make". Shenanigans ensue when Mr. Neff is unexpectedly spending the night in his office after a little marital conflict. Ira hides under a desk as Neff kicks back with "the married-man special", pizza, a self-help CD, and Solitaire.
Sounds like a good night to me! Fun Fact: the pizza Mr. Neff is eating is from Venezia's Pizzeria, which is a real pizza place in Albuquerque that made several appearances in Breaking Bad.
Season 6 Episode 12 "Waterworks"
This next appearance is a little bit of an oversight in production. In this next episode, an employee of Palm Coast Sprinklers, the same place of business where Jimmy's girlfriend Kim Wexler works, can be seen playing Solitaire on a surprising web browser: Microsoft Edge. This episode takes place in the year 2010, a full 5 years before the Edge browser was made available, and a decade before the version shown existed. Yikes, Mr. Gilligan.
The Simpsons
Season 31 Episode 15 "Screenless"
The Simpsons probably doesn't need an introduction for people of any age, as the over-30-year-old show continues to be very popular. In this episode from season 31, the Simpson family has succumbed to the plague of our time: screens. They all become addicted to their phones and computers and decide to go to a guilty tech billionaire-funded addiction center to try to break that addiction.
At the addiction center, Homer states, "I don't know if I can live in a world without online Solitaire", and the physician replies, "I have an answer for you", and hands him a deck of physical cards. It's a funny bit, but also kind of sobering. Digital Solitaire has become extremely prevalent, which unfortunately means that many have forgotten the joy of tactile, physical Solitaire. It doesn't hurt to have a physical deck around, people!
Supernatural
Season 13 Episode 18 "Bring 'em Back Alive"
Supernatural is a similarly long-running live-action TV show about two brothers, Sam and Dean Winchester, who keep up the family business of stemming the spread of all things… wait for it… Supernatural. That means ghosts, demons, monsters, and the like.
In this episode from season 13, the series antagonist, Lucifer (no, not the hot one from the TNT/Netflix series) is having a little bit of a hard time running Heaven after claiming its throne in God's absence and after the death of Hannah, who was next in line.
Seemingly illustrating his need to pass time and occupy himself, Lucifer is seen in the episode sitting on the floor playing Solitaire. Apparently ruling over all creation isn't what it's cracked up to be.
Silicon Valley
Season 3 Episode 2 "Two in the Box"
Silicon Valley is an HBO comedy series from King of the Hill and Beavis and Butthead creator Mike Judge. In it, three brainiacs go on a journey to start a tech company called Pied Piper in the notoriously competitive, titular area of Silicon Valley.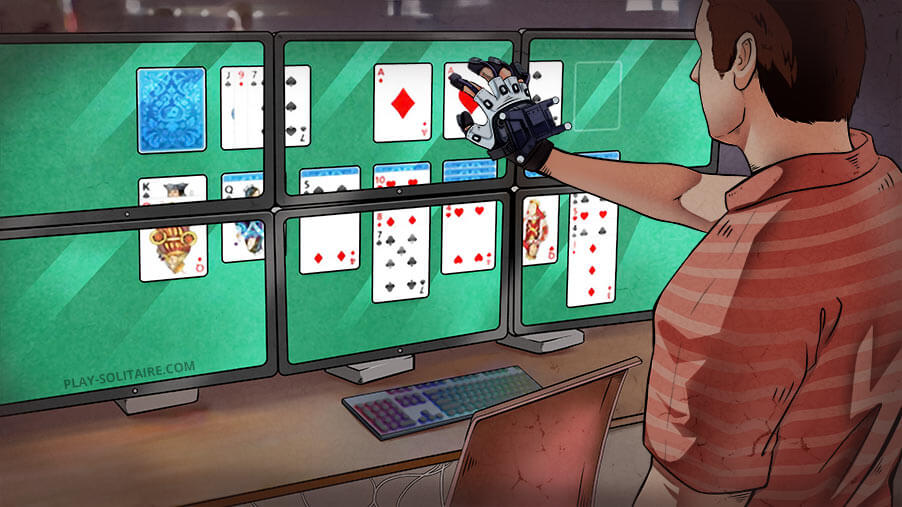 In Season 3 Episode 2, Kumail Nanjiani's character, Dinesh Chugtai, tries out a high-tech, motion-controlled version of Solitaire that uses VR gloves. Chugtai exclaims "This is amazing, I feel like I'm in Minority Report!".
The Good Doctor
Season 2 Episode 15 "Risk and Reward: New Boss Blues"
The Good Doctor follows Charlie Buc- I mean Norman Bat- I mean Shaun Murphy, an autistic surgeon with Savant syndrome played by Freddie Highmore. The show portrays Shaun's amazing abilities as he saves lives and does his best to deal with the other limitations caused by his condition.
In Season 2 Episode 15, Dr. Glassman, a primary character on the show, is undergoing chemotherapy after having been diagnosed with an inoperable glioma in his brain. As the man of medicine wrestles with the fact that he might only have 12 to 18 months left in his life, he plays Solitaire at his chemotherapy session.
Interrupting his peace is a man named Larry. Larry drops truth bombs on Dr. Glassman and persists through the doctor's avoidance techniques to get the message through that every cancer patient needs a community of people who understand what they are going through. Later in the episode, he meets a fellow card game lover and cancer patient named Candice and decides that playing cards with someone is much more fun than solo Solitaire.
Young Sheldon
Season 2, Episodes 4 & 14
Young Sheldon is the spin-off series to The Big Bang Theory that follows Sheldon Cooper in his formative years. Fans of the show will recall that Sheldon often recounts memories of his "Meemaw" in The Big Band Theory, whom he holds very dear.
In several episodes of season 2, his Meemaw Connie Tucker can be seen playing Solitaire at the family's kitchen table, often while doling out life advice or some other kind of guidance. Solitaire is used as a plot device here to symbolize Meemaw's patience and wisdom, but that doesn't mean she's above getting up to some mischief and stirring the pot!
Ray Donovan
Season 5 Episode 12 "Time Takes a Cigarette"
Ray Donovan follows the titular character played by Liev Schreiber, who is a "fixer" for the rich and powerful of Los Angeles and later New York City. When his father, Mickey Donovan (played by Jon Voight) is released from prison, he has to juggle fixing his own problems along with his clients.
Season 5 Episode 12 sees Mickey willing to do anything to break out of the Big House. Formulating a plan, he has a meeting with a cop named Holt. The older Donovan's plan is to throw his son Ray under the bus for the murder of Frank Barnes, the very same case Holt is investigating, in exchange for his freedom.
When Holt meets Mickey to discuss the information, the latter can be seen enjoying a game of Solitaire in his cell. Ah, Solitaire. A game that can be enjoyed by murderous criminals and cheeky grandmas alike.